| | | | |
| --- | --- | --- | --- |
| | C578 | Truck Driving (TRK) | WVC |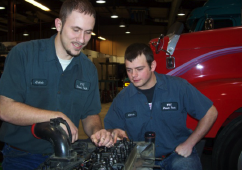 Program Overview:
The commercial Truck Driving program is structured to allow an individual to become proficient in the operation of trucks and semi-trailers. The end result is for the student to test for an Illinois commercial driver's license (CDL) and DOT certification.
Successful completers are employed in areas ranging from delivery to "over-the-road" transport, including specialty trucks such as UPS and the U.S. Mail.

PRINT with Descriptions
|

PRINT
Gainful Employment Consumer Disclosure Information


Website for Program


Semester 1

Prefix/Num

Title

Info

CR

FA2019

SP2020
| | | | | | | | |
| --- | --- | --- | --- | --- | --- | --- | --- |
| | TRK 1201 | Truck Driving | | 7 | | | ____________________________ |
This is a practical course in semi-truck and trailer operation to enable the student to satisfactorily start, move, road test, and diagnose the truck trailer combination. The student will successfully complete the State of Illinois written and driving exam to the standards of the Secretary of State. This class will teach students federal rules and regulations that govern interstate travel for trucks and also the Department of Transportation log book. The student will advance from class entry skills to competent skills in areas such as night driving, defensive driving, and specific road hazards under a variety of load conditions. Students will learn about additional licenses and permits within the industry.
We recommend that you contact an advisor before enrolling in any degree, certificate, or transfer program to ensure all requirements are met including total hours associated with transfer courses.



This is a General Education or Elective course to be selected and therefore has no schedule link.